On 27th March we held a morning session at Langhams Recreation Ground, a popular site that lies between Ridgway Road and Aveley Lane. We began to take an interest in it some years ago when it was in poor shape and no one seemed to care. We met with Waverley officers and agreed a joint programme to keep this attractive site in better condition. At our suggestion Waverley agreed to leave some areas of grass uncut and it is a pleasure now to see wildflowers growing in those parts. Right now there is a good crop of dead nettles blooming and these are supporting bumble bees which badly need sustenance at this time of year.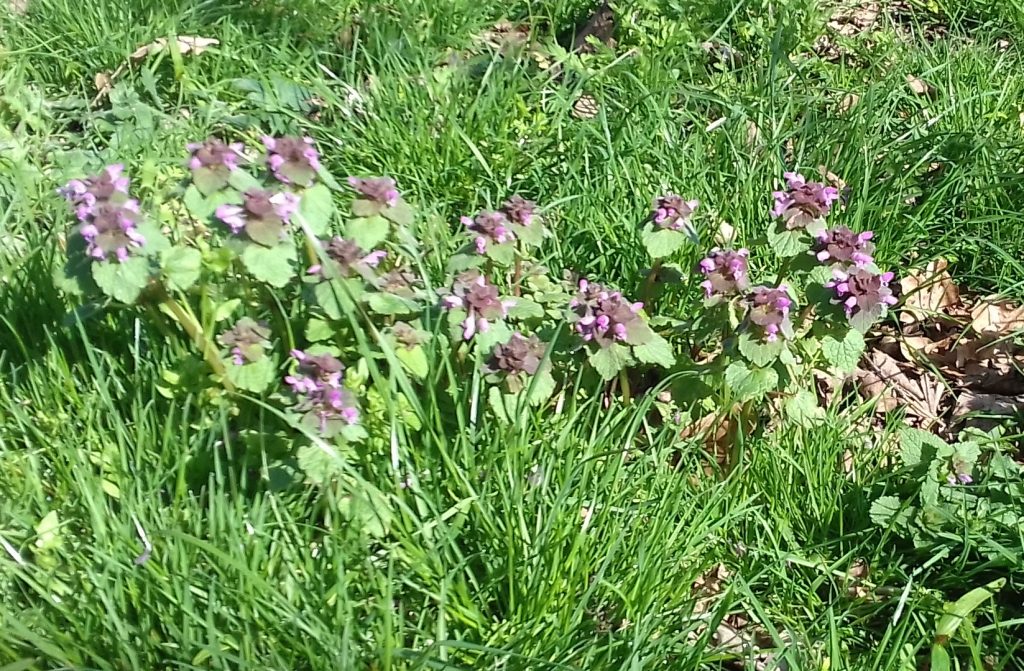 We have regularly conducted litter picks there because the woodland in particular attracts just about every type of rubbish from toffee papers to wire netting. Because we have over time dug out most of the long standing items the situation is largely under control but litter just keeps on coming. This emanates from two main sources. One is the Tesco store nearby. We do not blame the shop for that: it provides a good service to the community. But we do blame the people who buy their lunch there, eat it on the Recreation Ground and leave the wrappings and bottles all around. The other sources is fly-tipping of rubble and other builders waste. There is no excuse for any if this which here, in other parts of Farnham and indeed nation-wide is doing immense damage to the environment and to wildlife.
We were last at Langhams in October 2018 when we did a thorough litter pick. Despite that a considerable amount had accumulated again by 27th March. As may be seen in the photograph of our intrepid team piles of glass bottles, plastic containers, tin cans and builders rubble was collected. In addition a mass of wire fencing, an iron pipe and a length of guttering. Quite disgraceful on an area left to the town for the use of children. But well done to the team that spent their morning doing the clearance.