Thanks to collaboration between the Bourne Conservation Group (BCG) and Farnham Town Council a little known piece of greenspace in South Farnham has a very attractive new oak gate. Battings Garden is situated at the junction of the A287 road and The Ridgeway, just by the traffic lights, with a hedgerow along the Ridgeway Road boundary which until 2016 had an iconic oak gate. The memorial plaque, now gracing the new gate, proclaims that the garden was presented to the town in 1933 by Walter Batting Esquire. 
In 2016 the original gate had become unsafe and was therefore removed by Waverley Borough Council who are now responsible for the site. BCG, which had in the past carried out some maintenance work there, was concerned at the loss of this piece of the town's heritage and, with the backing of Councillor Carole Cockburn, made a case to the Town Council for replacement of the gate. This was successful and local firm Folly Patterns commissioned to construct it which they have done in splendid style.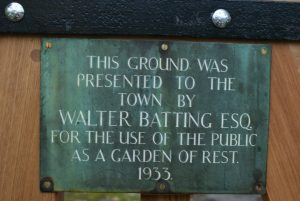 The life of Walter Batting, who lived from 1858 to 1932, was researched by BCG member and local historian Wendy Maddox, who sadly died earlier this year. He had set up business in Alton as a Drapers and Outfitters and later retired to a house in Great Austins.
Councillor Carole Cockburn, Leader of Farnham Town Council says: "Battings Garden is a really important local green space. We were pleased to respond to a request from the Bourne Conservation Group to replace the gate with one that incorporates the original design and that was made in the traditional way."
Noel Moss, Chairman of BCG, said "our Group is delighted with the splendid new gate and wish to thank all those involved in this project. We believe that is entirely appropriate to continue to recognise the generous gift of this land to the town in this way. The garden is now an important piece of greenspace at this increasingly busy crossroads and provides a peaceful retreat for local residents".