Meet at St Martin's on The Green at 2.15 pm.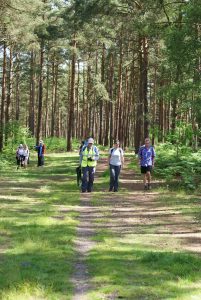 The theme this year for the Farnham Society's Heritage Open Days is Green Spaces and so where better to go than The Bourne? Here we not only have small pieces of green space within the urban area but we have direct access to the Surrey Hills Area of Outstanding Natural Beauty , the boundary of which runs along the eastern part of Dene Lane. We are therefore offering a guided walk appropriately starting on The Bourne Green and proceeding through the ever-popular woodland and heathland to the south including Sable Wood, Bourne Wood and the RSPB Farnham Heath reserve. We know the whole area very well as, at some point in our history, we have worked on all of those sites, the latest venture, of course, building rustic steps in Sable Wood.  In earlier times we did much work at the outset of RSPBs project including building an otter holt on the river Wey.
The length of the route is expected to be 4 to 5 miles, depending on what is finally agreed with the RSPB who are delighted to be involved. It will take in some open ground, close woodland and heathland and will give some sweeping views down as far as Hindhead. There will be frequent stops to draw breath and also give us a chance to explain points about the landscape and its underlying geology as well as its wildlife and history. We cannot, of course, guarantee seeing much wildlife, especially on a Sunday afternoon when there will be many other people out and about enjoying the countryside.  We know, however that there is a rich biodiversity including deer, and rare birds such as the tree pipit, Dartford warbler and woodlark together with one we will definitely not see, the nightjar.
All walkers need to come well prepared with good boots, a drink and clothing appropriate for the weather forecast for the day. Dogs are welcome but must be kept under close control on some parts of the walk.
The walk will end back where it started at St Martin's on The Green at about 5.30 pm.