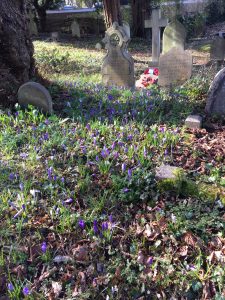 By last Sunday morning the snow had almost gone and the sun almost came out, giving us very good conditions for our session in the Old Churchyard. So, many thanks to the team that took on a whole range of tasks across the site. This will contribute to a good setting for the Church's Palm Sunday service there on 25th March.
The crocuses are still a beautiful sight in sunshine like today. The photo was taken on a phone but there are better photos on our website where the page about the Old Churchyard project has just been updated.
This is part of a major effort to enhance the website with contributions from several Committee members. We are receiving great help from our member Thomas Hill contributing his technical skills.