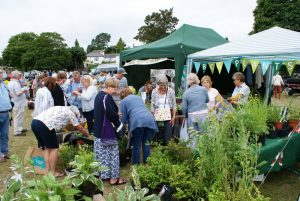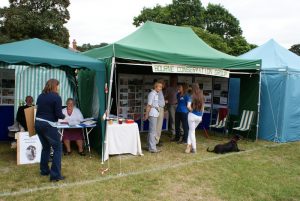 Thank you to all the good people of The Bourne and the wider area who visited our stands at this year's show on 15th July. Particular thanks to everyone who purchased plants and bric a brac but also for all the friendly interest in our work.
It was good that all our arrangements worked well in practice, or as well as is allowed by the tricky task of erecting 4 gazebos all of differing ages and styles. Thank you Bryan for getting all our gear on site before 0900 and well done the erection team, including young Thomas, for making sure all was ready an hour later for the arrival of the goods for sale. By the official opening time of 1230 we were in good order and all the teams swung smoothly into action under the direction of the stall leaders. A great deal of preparation had gone into that moment including amassing and storing the bric a brac, growing the plants and looking after them for months beforehand and much else besides. Many thanks everyone for all that effort. The pictures are a reminder of what was a hard working but memorable day.
The results were excellent. Takings were well up on last year and will go a very long way towards covering our essential running costs in the coming year, and a number of potential new recruits were signed up – a smaller number than we would like, but if we just manage to get 2 or 3 fresh reliable volunteers it will be worthwhile.