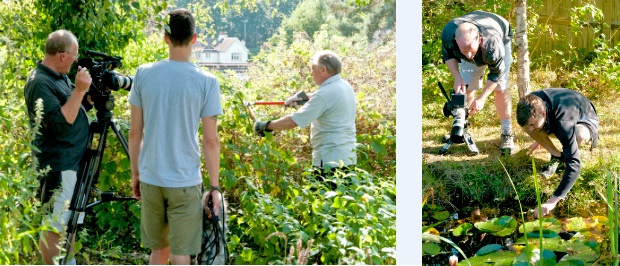 The Bourne Conservation Group (BCG) has had a busy and successful summer, which culminated in a visit by a BBC film team to Middle Bourne Lane Community Wildlife Garden on 13th September 2016. This arose directly from its participation in Farnham in Bloom.
The Royal Horticultural Society that runs the Nation in Bloom competition has teamed up with the BBC to draw attention to the work of conservation volunteers that took part in the National In Bloom competition this year. The BBC Natural History Unit is going round the country making a film to illustrate the theme which will be previewed when the competition awards are made public on 14th October. The film is then scheduled to be shown on Autumn Watch later that month.
The morning's filming included elevated pictures of the site, as well as close-ups of wildlife. Members of the Group were then filmed working on the site, undertaking conservation activities, as shown in the photographs.
BCG's opportunity for national coverage came only a few days after its contribution to Farnham's Heritage weekend, which was a guided walk called 'From Wells to Mains; the story of Farnham's water supplies', as described in the article below.
The Group has again given extensive support this year to Farnham in Bloom, and was rewarded by the interest shown by the judges in the Middle Bourne Lane Garden. The judging also took in the crossroads at Lower Bourne, where the flower displays produced jointly with The Bourne Residents Association have provided attractive displays much appreciated by residents and passers-by throughout the summer. On Saturday 17th September a celebration organised by Cllr Carole Cockburn and Valerie Nye and with drinks provided by Minesh of The Bourne Stores was held on site to mark the success achieved by the town in the In Bloom competition this year and to thank all who had contributed in The Bourne.
Noel Moss, Chairman of BCG, said 'We are delighted to have worked with colleagues this summer to make a contribution to Farnham in Bloom and the Heritage Open Days Weekend. The results achieved by everyone have been very gratifying so far and we await with anticipation the results of the national competition to be announced next month. The core of our work, however, remains the support of our local wildlife which remains under great pressure and needs all the help it can get.'