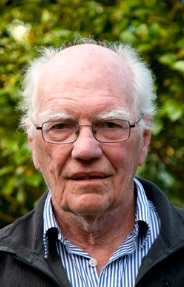 Martin Angel, our Vice-Chairman, reached the final of the prestigious World Wildlife Fund Earth Hour Heroes national competition. He was one of 18 shortlisted entries for the event on Tuesday February 28, in the shadow of Big Ben and the Houses of Parliament.
The WWF competition, run in conjunction with People's Postcode Lottery, invited people to nominate themselves, or others, if their actions are helping to save the planet. There are three categories in the competition – Community Hero, Lifestyle Hero and Workplace Hero – and each is designed to highlight individuals who deserve recognition for going the extra mile to help the environment and inspire others.
Martin was one of six finalists in the Community Hero category, for his outstanding dedication to wildlife conservation over the past ten years in his role as Vice-Chairman of the Bourne Conservation Group. Martin's highly decorated ecology background and experience from working as an oceanographer have been invaluable to the Farnham area as he's helped to campaign passionately for local improvements for the benefit of residents and wildlife.
The group is very well respected for its work on improving some key local sites such as Middle Bourne Lane Community Wildlife Garden and the Old Churchyard, both of which have become much friendlier towards native species of flora and fauna.
Martin's commitment to the local environment has made a huge difference and led to the Middle Bourne Lane Garden being recently featured on BBC Autumnwatch.
Naomi Hicks of WWF-UK, said: "The Earth Hour Heroes competition is all about finding unsung heroes from across the UK who help protect our brilliant planet – and Martin certainly does just that."
The winners at the event received their award from triple Olympic Gold Medalist, Andrew Triggs Hodge.
Martin added: "I'm honoured to be nominated for an Earth Hour Hero award. Being nominated for this award gives me hope that our team efforts are not in vain."
Those inspired by Martin?s achievements can get involved in WWF's Earth Hour – the world's largest demonstration of support for action on climate change – at 8:30pm on Saturday March 25, simply by switching off their lights for one hour in a symbolic show of support.
Last year, millions around the world across 178 countries came together to show support for action to protect our amazing planet.
To find out more, please visit: wwf.org uk/earthhourheroes