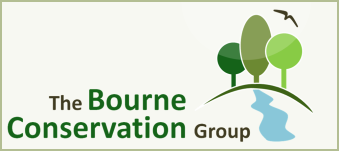 ? Compton Field 3 – The case for designating it as Green Infrastructure Environmental Background Farnham occupies a unique position at the western end of the Weald of Kent, Sussex and Surrey and so enjoys to a most unusual assortment of wildlife habitats within a small area. These habitats range from sandy heathland to clay woodlands and chalk grassland and from ancient woodlands to the flood meadows along the river Wey catchment. As a result there is a rich diversity of wildlife concentrated in and all around the town. Examples from South Farnham include the recent find of some very rare plants and the identification over a period by a local volunteer group of over 546 species of moths, some of which are rare. A further indication of the exceptional nature of the area is the number of sites designated to protect both the overall landscape and individual species and their habitats. The boundary of the Surrey Hills AONB runs through South Farnham, there are two SSSIs and the Wey is a designated chalk stream. Additionally, development in the town has already been influenced by the well-established rules governing the Thames Basins Heath Special Protection Area (SPA) and also those now coming into force to govern the Wealden Heaths SPA. However, there are moves afoot to weaken the protection given to the Wealden heath SPA.
While the designations noted above (and others) are principally aimed at protecting particular species such as sand lizards, nightjars and native crayfish, there is now general recognition that much of our more common native wildlife is in decline through loss of habitat, pollution, predominance of aggressive invasive species and other factors, as has been recently highlighted in the publicity about the serious declines in insect pollinators These declines are so serious that, to ensure that not only are populations of threatened and declining species sustained but also that our agricultural productivity is maintained, a more systematic approach to conservation has to be adopted. This has given rise to an ecosystem or landscape scale approach to conservation. This has the fundamental objective of harmonising support for native wildlife and the need to sustain human social and economic activity. This is especially important in the increasingly densely populated South-east of England. To implement this landscape approach, areas of Biodiversity Opportunity have been identified by the Wildlife Trusts working with local government and other central authorities such as DEFRA and English Nature.
Farnham is surrounded by such environmentally important areas (which largely equate to the previously defined SPAs). In addition, the river Wey has been designated a Biodiversity Opportunity Area in its own right, signifying not only the crucial importance of green corridors for the free movement of wildlife, but also the need to sustain the quality and quality of water supplies. Green corridors enable species to re-colonise areas that have been hit by natural or man-made disasters such as the 2010 heathland fire on Frensham Common and the 2013 flooding in the Wey Valley. However, a single, narrow corridor is insufficient to meet the complex needs of the full range of wildlife present in this area. A network of open spaces, gardens, hedges, woods, rivers and streams must be maintained to enable species to move through the inhospitable expanses of brick, concrete and tarmac that make up urban areas. This can be regarded as a Green Infrastructure that complements the necessary human infrastructure. The value of green infrastructure to human health and welfare is well documented.
A partial network of green infrastructure already exists within the built up area of Farnham. It consists of playing fields, patches of woodland, school grounds, gardens and several streams. In areas like The Bourne, these features are inter-connected by the network of footpaths, many of which are of ancient origin. All these features play a key role in maintaining the health and well-being of the human population ensuring it remains a good place to live. But they also serve to prevent the local plant and animal communities becoming isolated and so vulnerable. Human residents are attracted to the various green spaces and the footpaths and bridleways are well used for recreation. This green infrastructure contributes to the ?feel good? factor and helps adults and children to stay connected with nature. There are many additional benefits; trees and hedges absorb aerial pollutants, muffle noise and reduce the intensity of the urban heat dome (conurbations can be several degrees warmer that the surrounding countryside and can result in physiological stress during heat waves). If its biological diversity is high it will help to maintain the community's health as well as providing recreational and educational opportunities.
Decisions on planning issues are now being taken, which will have long term impacts on the environment and must take account of significant foreseeable future trends. Surprisingly, because of it geographical location in a relatively enclosed valley, the small town of Farnham experiences some of the highest levels of air pollution of anywhere in the country; it must keep its trees and gardens to prevent this pollution getting any worse. Farnham, in common with other parts of the country, is experiencing the effects of climate change. There have been marked changes in ?phenology? the term which describes the timing of when trees leaf out, spring flowers like snowdrops bloom and birds start nesting. The general trend has been for these events to occur earlier in the year. However the cold Spring in 2013 delayed the usual indicators of Spring and demonstrated that the timings are becoming less predictable. Such changes have a knock-on effect on the viability of our insect pollinators and the breeding success of our birds. For example, the decline in cuckoos, those harbingers of summer, is thought to be in part the result of a shortage of large moth caterpillars which are the staple diet of the adult birds. New species have been arriving (such as the ivy bee Colletes hederae, the tree bumblebee Bombus hypnorum and the landhopper Arcitalitrus dorreini), but others are in serious decline including the notably the honey bee, the house sparrow, the starling and the song thrush. The full impact of such changes is yet to be seen but they seem to be boosting the success of invasive plants like Himalayan balsam and Japanese knotweed. These are plants that already pose serious threats not only to our native plants but also, in the case of Japanese knotweed, to the very fabric of urban environments. Also the spread of tree diseases affecting ash and oak trees threatens detrimental change the British landscape, which may be even drastic then the impact of dutch elm disease in the 1970s. A fulsome green infrastructure will endow our natural fauna and flora with greater resilience to survive and withstand the impacts of these invasions, thus helping to maintain the diversity of native plant and animal communities, and the health of the human community.
Compton Field The Compton Fields lie in an area of great significance to the landscape, ecology and heritage of south east Farnham. The fields are within 5 km and are ecologically linked to both local SPAs. Within a radius of 1 km of them several important features: –
Waverley Abbey
Waverley House and lake
Moor Park House and estate
The hamlet of Compton with its charming little church
A site or archaeological interest (Roman pottery kiln)
The Moor Park SSSI
Significant areas of Ancient Woodland
The pastures of the Wey flood Plain
Rural footpaths (FP 73 is an ancient track sometimes called Boreas Dene)
A section of the river Wey and its tributary, The Bourne Stream
Sites where rare wild flowers grow.


Sketch map showing the location of the field 3. Fields 1 and 2, to the northwest, are also designated as sites for future housing development. (The pumping station is at SU860460).
Quite apart from the many historical and cultural associations, all of these elements are essential building blocks of a living landscape contributing a wide variety of natural habitats:- wetland, woodland and grassland together with low a density urban environment towards Farnham. Remove any one of these building blocks and the landscape is badly impaired, perhaps irrevocably. This remarkable rich habitat contributes:- a. A very rich diversity of local wildlife, and b. it both broadens the natural corridor of the river Wey, and is a stepping stone along the wildlife corridor along the valley of The Bourne Stream and also between the Wealden Heath SPA and the Thames Basin SPA. Such wildlife corridors are essential components of the concept of Landscape Scale Conservation, which is being implemented locally by the Surrey Wildlife Trust, the Surrey Hills ANOB, and nationally by JNCC. There has to be a way through the barrier to wildlife presented by the ever-expanding conurbation of Farnham between the open areas to the south and east and other similar areas in the west, some of which lie in Hampshire. The steep valley of The Bourne Stream is one such natural corridor through the urban area of South Farnham and links the Wey Valley and the Surrey Hills ANOB with Alice Holt Forest and hence the South Downs National Park.
Under current Waverley planning policies, the three Compton fields are classified as ?Areas Beyond the Green Belt? to which Policy C2 applies and are unprotected. They have been designated as Greenfield sites suitable for future housing development. Compton Copse lies within the Surrey Hills AONB and is classified as an Area of Great Landscape Value afforded protection under Policy C3. These planning policies are soon to be replaced by the new Waverley Core Policy of which the Farnham Neighbourhood Plan is to be the local component. It is imperative that Compton Field 3 at least is given protection from development by designating it as a component of the green infrastructure of South Farnham. In South Farnham there is, as yet, no large area of green infrastructure designated, which will compliment those already designated in north Farnham, namely Farnham Park and west Farnham namely Bishop?s Meadow.
Description of the Field 3. This field is at the lower end of The Bourne Stream (see map). The stream flows along the eastern margin of the field, and on its opposite eastern bank of the Stream is ancient woodland (another irreplaceable ecological feature that must be protected from future development. The western edge of the field is flanked by footpath 73 (Boreas Dene); an old path that in the 19th and early 20th centuries linked the farms around Waverley Abbey with Greenhill Farm and the village of the upper Bourne. Today it is moderately well used by walkers and joggers and is regularly maintained by BCG members who are footpath wardens for SCC. The footpath is lined with ancient, ivy clad oaks, which are registered as trees of interest in the Woodland Trust?s national inventory of ancient trees. Being ivy covered these trees are well used by nesting birds and roosting bats. The field itself is well used as a foraging area for the bats, another reason for it to be protected. To the north the field is bounded by a narrow strip of woodland containing several mature oaks which secludes it from the B3001 (Farnham-Elstead road) and provide a link with the woodland of Compton Copse. The southern end of the field is bounded by open pasture, which is privately owned and used for grazing cattle and dog walking. In 2103 the field was cleared of rubbish by the Bourne Conservation Group, has been fenced and is now used for grazing cattle. In the northeast corner is a pumping station that is a part of the sewer infra-structure that is maintained by Thames Water. This pumping station is operating close to its maximum capacity; during the 2013 winter it was discharging an overflow into the Stream, and hence into the River Wey for several weeks.
The Ecology of the field The field is unimproved neutral grassland with an area of about 2 hectares ? hence is a habitat is national importance according to the National Biodiversity Action Plan. At the southern end there is a slope which is warm and particularly rich floristically. Until recently it has been grazed by horses, despite there being dense stands of ragwort. In 2013 was fenced after the ragwort had been cleared by hand by member of the Bourne Conservation Group.
Early in 2013 the Bourne Conservation Group (BCG) had received a grant from South East Water to clear The Bourne Stream of fallen timber and the accumulation of fly-tipped rubbish from the access track near the pumping station (three skip loads). This project was a contribution to the Wey Landscape programme which is being coordinated by the Surrey Wildlife Trust on behalf of the Environment Agency. This programme is part of the Agency?s response to fulfil the Government?s obligations under the EU Water Framework Directive to improve water quality in the Nation?s waterways. Under the Wey Landscape Programme a Farnham?s Rivers Group was established with the full collaboration of the Farnham Town Council (A Town councillor was its founding Chairperson). Through the River?s Group, a successful application was made by BCG for funding from the Community Chest of South-East Water to clean up The Bourne Stream. This work was successfully accomplished in February 2013, thereby contributing to the improvement of the water quality of the River Wey.
The field has remained untreated with chemicals for many years, and so supports a rich diversity of animal and plant communities. While none of its identified fauna and flora is of special conservation, it is its rich assemblage of species that is important; no comparably rich communities are to be found within many miles (See the Appendix).
The field generally slopes from the top gate in the north-west corner (close to the junction between the Elstead Road and Old Compton Lane). The valley landscape from the gate presents a secluded aspect that has considerable appeal especially in summer when the meadow flowers are in full bloom. The blackberries in the top part of the field offer some of the richest pickings in the neighbourhood. The soils are sandy and generally well drained. There is a land drain in the southern area, which drains the private woodland to the south-west of the field and empties into the stream near its southeast corner. A major underground sewer runs alongside the stream which links the sewer network with the Pumping station to the north-east of the field.
For the last four years The Bourne Conservation Group (A local voluntary organisation) has been working actively in the field along The Bourne Stream, and in Compton Copse (formerly Compton Recreation Ground) in co-operation with Countryside ranger of Waverley Borough Council. The BCG work has mainly focussed on three aspects: 1. The eradication of non-native alien species like Himalayan balsam; 2. The maintainence of the the footpath and 3. Conducting ecological surveys in conjunction with the Surrey Wildlife Trust. In Compton Copse it has been participating, along with local residents, in woodland management, mostly in taking out excess hollies and birch saplings.
In Annex A the species identified (approaching 300) in the field are listed (these records have been submitted to the Surrey Biodiversity Data Centre); over 200 of these species have been recorded photographically. Despite its impressive length, the list probably represents fewer than half the species present, because it has not been possible to identify the species of several diverse groups which require specialist expertise (e.g. snails, beetles, spiders, mosses and lichens). This listing shows that the field is not only a beautiful green space but also a highly diverse area of considerable ecological merit.
In the immediate vicinity, the Surrey Wildlife Trust has recorded several nationally rare wild flowers. Although to date none has so far been recorded in the Field.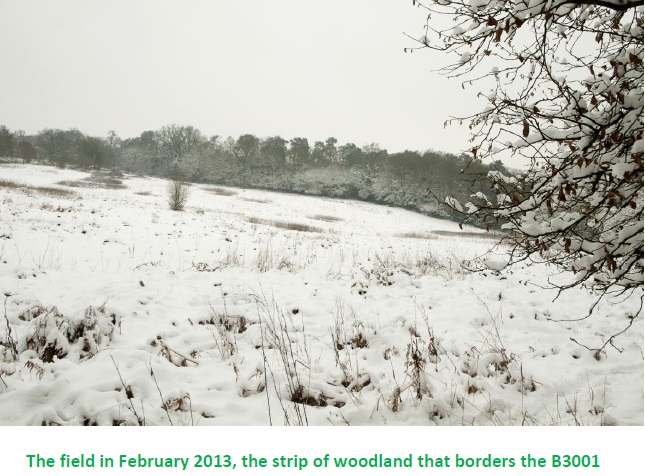 Multifunctional value of the field as Green Infrastructure 1. Biodiversity
The rich diversity of the field is comprehensively demonstrated by the list of species in Annex A. All these records have been submitted to the Surrey Biodiversity Records Centre, and the species continue to be regularly monitored.
2. Landscape
The field is a scenic ecological unit flanked by the ancient woodlands that line the eastern slope of the valley, the line of ancient trees that line the footpath and the fringe of woodland lying along the field boundary between the Elstead Road (B3001) and the boundary.
3. Recreation
The footpath is in regular use by walkers and joggers. This use will probably increase if there are further Housing developments in South Farnham. It represents a safe out-door recreational environment for visitors.
4. Education
The field has considerable potential for educational use, which is yet to be realised, However, the head master of Barfield School has expressed an interest in using the field for environmental studies, and the field is close to other schools such as the South Farnham School and Farnham College.
5. Wey Landscape Programme
The recent improvements to the status of the Bourne Stream will have made a contribution to the water quality of the river Wey. Under this programme links have been established both with local community groups, such as the Farnham Rivers Group, and county-wide groups (e.g. SWT, National Trust) and Government department and Water companies.
6. Wildlife Corridor
The field represent the initial stepping stone of a significant wild life corridor along the valley of The Bourne stream through the urban area of South Farnham that links the Wey Valley to The Bourne Wood to the east and Alice Holt Forest (Hampshire) to the south. Stream clearance work in February 2013, which was a contribution to the Wey Lanscape Programme. Footpath 73 runs along the ridge in the background.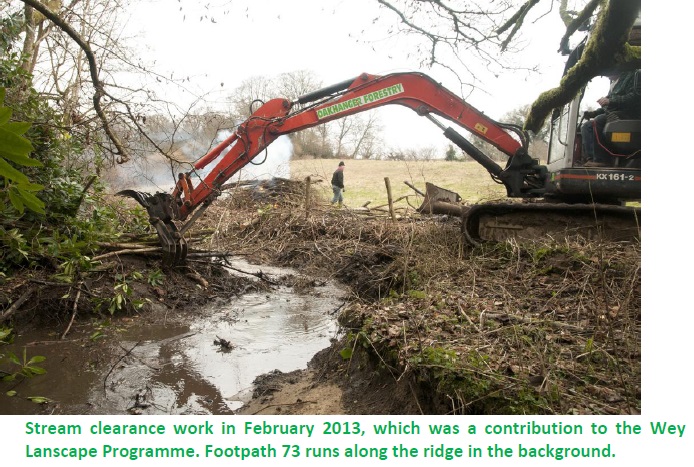 7. Biodiversity Action plans
The designation of this field will serve the objective of the Surrey Biodiversity Plan and the Urban Diversity Action Plan, in making the boundary to the outskirts of Farnham ?permeable to wildlife?, and acting as a buffer zone between the open countryside along the Wey Valley and the spread of urban Farnham.
Conclusion The field amply fulfils the majority of the criteria for it to be designated as part of Farnham?s green infrastructure, in both the local and the county-wide context. This proposal is supported by a wide partnership of voluntary and statutory bodies. So far expressions of support have been received from The Bourne Residents Association, the Surrey Botanical Society, and the Farnham Rivers Group.
It is the custom in planning application for both the developer and the Planning Authority to concentrate in detail on the specific site. While this is understandable and necessary, we believe that in this case it is important consider its value as a green space now and in the foreseeable future, to the community and to the wildlife of the area because of its landscape, ecology and heritage.
The fields in question provide important habitats for a wide range of flora and fauna. They also provide stepping stones for wildlife along the Wey corridor, helping to link the open areas of the Surrey Hills Area of Outstanding Natural Beauty to the similar areas west of Farnham and into Hampshire.
The designation of areas contributing to Farnham?s Green Infrastructure is a key element in the Neighbourhood Plan currently being drawn up by the Town Council. This provides a one-off window of opportunity to give long-term protection to areas that the local community considers important to its health and well-being. If this window of opportunity is missed then key aspects of the fabric of our local landscape will be irreparably lost.
ANNEX A
?
?
Species photographed in Compton Field
?
?
?
?
(Species on bold are UK BAP Listed)
?
?
?
?
Flowers
?
?
1
Barren stawberry
Potentilla sterilis
?
2
Ragwort
Senecio jaccobeae
?
3
Black thorn
Prunus spinosus
?
4
Bluebell
Endymion non-scripta
?
5
Common century
Centarium erthraea
?
6
Common mallow
Malva sylvestris
?
7
Lesser celandine
Ranunculus ficaria
?
8
Germander speedwell
Veronica chaemaedyris
?
9
Common violet
Viola riviniaria
?
10
Ground ivy
Glechoma hederacea
?
11
Ivy
Hedera helix
11
?
?
?
?
?
?
?
?
?
Arachnids
?
?
1
common cross spider
Araneus diadematus
?
2
Crab spider
Misumena vatia
?
3
Crab spider
Xysticus sabbulosa
?
4
Sheet web spider Xysticus sabbulosa
Xysticus sabbulosa
?
5
?
Tetragnatha extensa
?
6
?
Nuctenea umbratica
?
7
Wasp spider
Argiope bruennichi
? 7
?
?
?
?
?
?
?
?
?
Beetles
? Coleoptera
?
1
wasp beetle
Clytus arietis
?
2
14-spot ladybird
Propylea 14-punctata
?
3
Thick legged flower beetle
odemera nobilis
?
4
Soldier beetle
Cantharis fusca
?
5
Soldier beetle
Cantharis rubra
?
6
Green nettle weevil
Phyllobius sp.
?
7
Garden chafer
Phylopertha horticola
?
8
cream-spot ladybird
Clavia 14-guttata
?
9
Harlequin ladybird
Harmonia axyridis
?
10
Hazel leaf roller weevil
Apoderus coryli
?
11
Longhorn beetle
Strangalia maculata
?
12
Maybug or cockchafer
Melolontha melolontha
?
13
Tanner beetle
Prionus coriarius
?
14
Seven-spot ladtbird
Coccinella 7-punctata
?
15
ten-spot ladybird Adelia 10-punctata
ten-spot ladybird Adelia 10-punctata
?
16
Tenebrionid beetle
?Nalassus laevioctostriatus
?
17
violet ground beetle
Carabus violacea
?
18
Weevil
?Curculio nucum
18
?
?
?
?
?
Flies
Diptera
?
1
?hoverfly
Volucella bombylans
?
2
Asilid fly
Eutolmus rufibarbis
?
3
Beefly
Bombylius major
?
4
chironomid midge
?
?
5
conopid fly
Sicus ferrugineus
?
6
conopid fly
Conops quadrifasciata
?
7
Flesh flies
Sarcophaga sp.
?
8
March Fly
Bibio hybridus
?
9
Fly
Mesembrina meridiana
?
10
horsefly
Tabanus sudeticus
?
11
Hoverfly
Cheilosia illustrata
?
12
Hoverfly
Chrysotoxum festivum
?
13
Hoverfly
Epistrophe grossulariae
?
14
Hoverfly
?Helophorus pendulus
?
15
Hoverfly
Melangyna cincta
?
16
Hoverfly
?Merodon equestris
?
17
Hoverfly
Myathropa florea
?
18
Hoverfly
Scaeva pyrastri
?
19
Hoverfly
Syrphus ribesii
?
20
Hoverfly
Volucella bombylans
?
21
Hoverfly
Volucella inanis
?
22
Hoverfly
Volucella pelluscens
?
23
Hoverfly
?Chrysotoxum cautum
?
24
Hoverfly
Xanthogramma pedissequum
?
25
Snipe fly
?Rhagio sp
?
26
Tachinid fly
?Phasia hemiptera
?
27
Tachinid fly
Tachina fera
27
?
?
?
?
?
Scorpion fly
Mecoptera
?
1
scorpion fly
Panorpa germanica
1
?
?
?
?
?
Bugs
Hemiptera
?
1
Alder spittlebug
Aphrophora alni
?
2
Dock bug
Coreus marginatus
?
3
Field damsel bug
Nabis ferus
?
4
forest bug
Pentatoma rufipes
?
5
Gorse shieldbug
Piezodorus lituratus
?
6
Hawthorn shieldbug
Acanthosoma haemorrhoidale
?
7
Horned treehopper
?Centrotus cornutus
?
8
Leaf Hopper
?Evacanthus interruptus
?
9
mirid bug
Closterotomus norvegicus
?
10
Mirid bug
Deraeocoris ruber
?
11
plant bug
Leptosterna dloabrata
?
12
Rhododendron leafhopper
Graphocephala fennahi
?
13
Tree damsel bug
Himacerus apterus
?
14
Shieldbug
Troilus luridus
14
?
?
?
?
?
Bees, Wasps
Hymenoptera
?
1
Solitary bee
Andrena fulva
?
2
Bumblebee
Bombus hortorum
?
3
Bumblebee
?Bombus pascuorum
?
4
Hornet
?Vespa crabo
?
5
Sawfly
Tenthredo mesomelas
?
6
Sawfly
Rhogogaster sp
?
7
Solitary bee
Andrena dorsata
?
8
solitary bee
?Andrena minutula
?
9
solitary bee
Andrena nitida
?
10
Solitary bee
Nomada flava
?
11
Tree bumblebee
Bombus hypnorum
?
12
common wasp
Vespula vulgaris
?
13
14
White-tailed bumblebee
Ivy bee
?Bombus lucorum
Colletes hederea
?
?
14
?
?
?
?
?
Assorted
?
?
1
Alderfly
?Sialis lutraria
?
2
Lacewing
?Chrysoperla carnea
? 2
?
?
?
?
?
Dragon and Damselflies
Odonata
?
1
Beautiful demoiselle Agrion virgo
Agrion virgo
?
2
Broad bodied chaser dragonfly
Libellula depressa
?
3
Emperor dragonfly
?Anax imperator
? 3
?
?
?
?
?
Grasshoppers and Crickets
Orthoptera
?
1
Field grasshopper
Chorthippus brunneus
?
2
Speckled bush cricket
Leptophyes punctatissima
?
3
Meadow grasshopper
Chorthippus parallelus
?
4
dark bush cricket,
Pholidoptera griseoptera
?
5
Long-winged conehead
Conocephalus discolor
?
6
Oak bushcricket female,
Meconema thalassinum
?
7
Common green grasshopper
Omocestus viridulus
?
8
Meadow grasshopper
Chorthippus parallelus
?
9
Common earwig
Forcicula auricula
? 9
?
?
?
?
?
Moths
Lepidoptera
?
1
pyralid micromoth
?Crambid micromothChrysoteuchia culmella
?
2
tortricid moth
Aleimma loeflingiana
?
3
tortricid moth
Apotomis turbidana
?
4
pyralid micromoth
?Crambus lathoniellus
?
5
Clay triple lines
Cyclophora linearia
?
6
brown rustic .
Rusina ferruginea
?
7
pyralid micromoth
Agriphila inquinatella
?
8
pyralid micromoth
Agriphila tristella
?
9
tortricid moth
Aleimma loeflingiana
?
10
tortricid moth
Archips podana
?
11
Barred red
Hylaea fasciaria
?
12
beautiful hook-tip
?Laspeyria flexula
?
13
black arches
?Lymantria monacha
?
14
blotched emerald
Comibaena bajularia
?
15
bramble shoot moth
?Notocelia uddmanniana
?
16
brown plume moth
?Stenoptilia pterodactyla
?
17
Brown rustic
Rustina ferruginea
?
18
Brown silver line moth
Petrophora chlorosata
?
19
oecophorid micromoth
Carcina quercana
?
20
tortricid moth
Celypha lacunana
?
21
Cinnabar moth
Tyria jacobaeae
?
22
Clouded buff
?Diacrisia sannio
?
23
Common white wave
Cabera pusaria
?
24
Coronet Craniphora ligustri
Coronet Craniphora ligustri
?
25
pyralid moth
Crambus lathoniellus
?
26
?pyralid moth
Crambus perlella
?
27
Cream wave
?Scopula floslactata
?
28
tortricid moth
Eucosma campoliliana
?
29
Flame carpet
?Xanthorhoe decoloraria
?
30
Green carpet
Colostygia pectinataria
?
31
Green oak tortrix
?Tortrix viridana
?
32
Hawthorn moth
Scythropia crataegella
?
33
Large fruit tree tortrix
?Archips podana
?
34
Leaf mine of? a gracillariid moth
Acrocerops brongniardella
?
35
light emerald
Campaea margaritata
?
36
lobster moth
Stauropus fagi
?
37
Longhorn moth
Adela reamurella
?
38
longhorn moth
Nemophora degeerella
?
39
Lychnis
Hadena bicruris
?
40
Maidens blush
Cyclophora punctaria
?
41
mottled beauty
Alcis repandata
?
42
Nettletap moth
?Anthophila fabriciana
?
43
Orange swift
Hepialus sylvina
?
44
pale oak beauty
Hypomecis punctinalis
?
45
Pale tussock
Calliteara pudibunda
?
46
Tortrid micomoth
Pammene aurana
?
47
Pebble hook-tip
Pebble hook-tip Drepana falcataria
?
48
Peppered moth
?Biston betuaria
?
49
plume moth
Stenoptilia pterodactyla
?
50
Tortrid micomoth
Ptycholma lecheana
?
51
pyralid moth
?Endotricha flammealis
?
52
Riband wave
?Idaea aversata
?
53
rivulet
Perizoma affinitata
?
54
Satin lutestring
Tetheella fluctuosa
?
55
Scalloped hazel
Scalloped hazel Odontopera bidentata
?
56
?pyralid moth
Scoparia pyralella
?
57
Silver-ground carpet
Xanthorhoe montanata
?
58
Six-spot burnet moth
Zygaena trifoli
?
59
small seraphim
?Pterapherapteryx sexalata
?
60
Small yellow wave
?Hydrelia flammeolaria
?
61
Smoky wainscot
Mythimna impura
?
62
spectacle Abrostola tripartita
spectacle Abrostola tripartita
?
63
Square spot
Paradarisa consonaria
?
64
straw dot
?Rivula sericealis
?
65
swallow tailed moth
Ourapteryx sambucaria
?
66
Sycamore
?Acronicta aceris
?
67
Tortricid micromoth
Grapholita compositella
?
68
Tortricid micromoth
Argyrotaenia ljungiana
?
69
Tortricid micromoth
Stricoris lacunana
?
70
Tortricid micromoth
Endothenia sp
?
71
treble brown spot
Idaea trigeminata
?
72
Variegated golden tortrix
Archips xylosteana
?
73
white ermine
Spilosoma lubricipeda
?
74
White plume
?Pterophorus pentadactylus
?
75
Willow beauty
Peribatodes rhomboidaria
?
76
Yellow shell
Camptogramma bilineata
?
77
yponomeutid micomoth
?Plutella xylostella
77
?
Butterflies
?
?
1
Brimstone
Goneptryx rhamni
?
2
Brown argus
?Aricia agestis
?
3
comma butterfly
Polygonia c-album
?
4
Essex skipper
Thymelicus sylvetris
?
5
Gatekeeper
Pyronia tithonus
?
6
Green-veined white
Pieris napi
?
7
Holly blue butterfly
Celastrina argiolus
?
8
large skipper
Ochlodes venata
?
9
Large white
Pieris brassicae
?
10
Meadow Brown
Maniola jurtina
?
11
Common blue butterfly
?Polyommatus icarus
?
12
Orangetip butterfly
Anthocharis cardamine
?
13
Painted lady
Vanessa cardui
?
14
Peacock
Inarchis io
?
15
small heath butterfly
?Coenonympha pamphilus
?
16
small tortoiseshell butterfly
Aglais urticae
?
17
Speckled wood
Paragre aegeria
17
199
?
?
?
?
Acknowledgements We gratefully acknowledge Mr Andrew Ward and Mr Greg Salder for allowing us to access their land. We must also thank the many people have helped with the surveys especially Graham Collins, Jovita Kaunang, Dr Catherine Burton, Isobel Girvan, Sue Cooper and manyl members of the Bourne Conservation Group.
Martin Angel and Noel Moss
Bourne Conservation Society
April 2014

All content ? Bourne Conservation Group 2008